The Commons and Music Education for Social Change
Keywords:
commons, music, education, social change
Abstract
This paper spells out the value of an alternative paradigm of the commons for thinking social change and for refiguring education, in general, and music education, in specific. It sets out from the different strands of thought on the commons as a collaborative mode of living, acting and organizing on terms of collective autonomy, equal freedom, creativity, diversity and participation. It analyses the bearing of the various commons on contemporary music practices –horizontal work, open-source musicianship, individual experimentation, collectivized authorship- and education. Education as commons is transformed into a collective good which is co-created by all parties involved on a footing of equality, autonomy and creative freedom. Commoning music education, more specifically, would imply: an opening of music, and education in music, to any and all; a blurring of the divides between professionals and amateurs, teachers and students, producers and consumers; an endeavour to minimise unequal power relations, whereby the teacher relinquishes the role of the authority and becomes an assistant, an advisor, an animator and a facilitator; collective self-governance of educational processes; equal freedom through individual creativity, diversity, openness, collaboration, hybridity and experiment.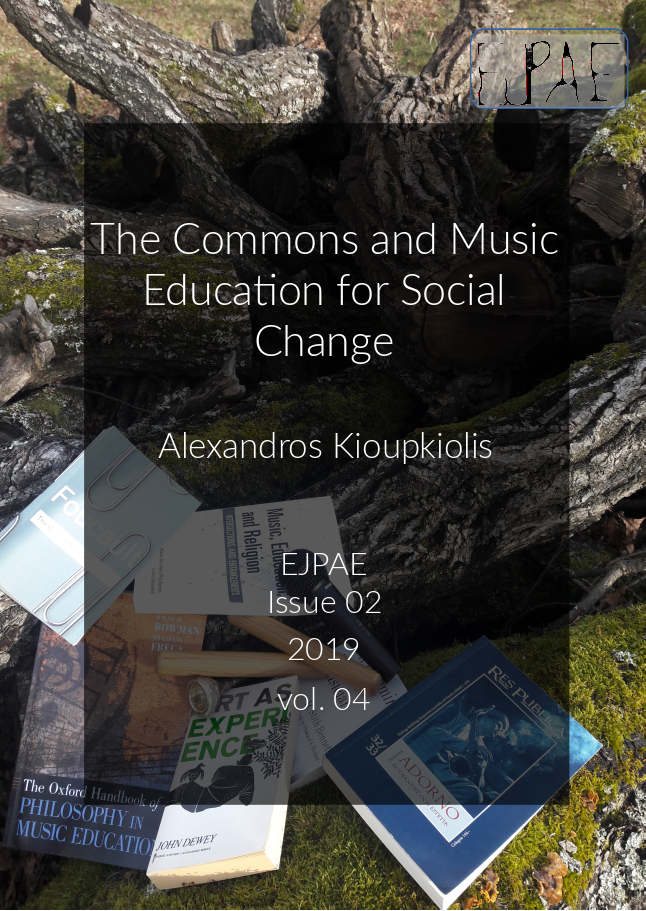 Downloads