Ethical Considerations on Conducting Research about Music Teaching in Primary Schools:
A Virtue Ethics Approach
Keywords:
music education, primary school, research ethics, virtue ethics
Abstract
The purpose of this article is to explore a specific normative ethical approach, virtue ethics, with respect to its potential to support ethical considerations related to music education research. The work we report on here has been carried out in preparation for a study on music teaching in Finnish primary schools. As in many other countries around the world, there are well-known challenges for music education in primary schools in Finland: many teachers feel that they lack the qualifications for teaching music, and music courses in primary teacher education have been cut to a minimum. One central ethical dilemma, then, is to conduct a study that is trustworthy and does not embellish problematic situations while remaining supportive of good practices, fair towards the teachers who participate in the study, and constructive with regard to the potential of improving music teaching through future collaborative projects. What virtue ethics might have to offer as we strive for a relational and sustainable approach to music education research is not only a theoretical framework for thinking about how to conduct a study ethically, but also a reorientation in what we mean by ethical guidance. Its radical suggestion is that we move beyond compliance with research procedure and develop instead a deep commitment to practical wisdom, connected to the persons we hope to become and the lives we want to live.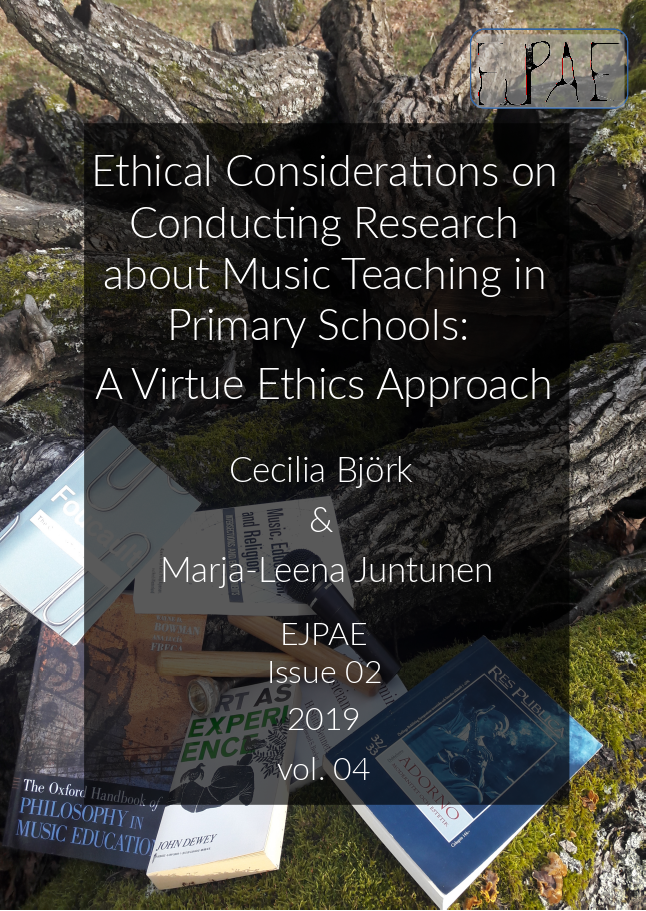 Downloads